Sweet Reflections - Custom Mother of Pearl Pendant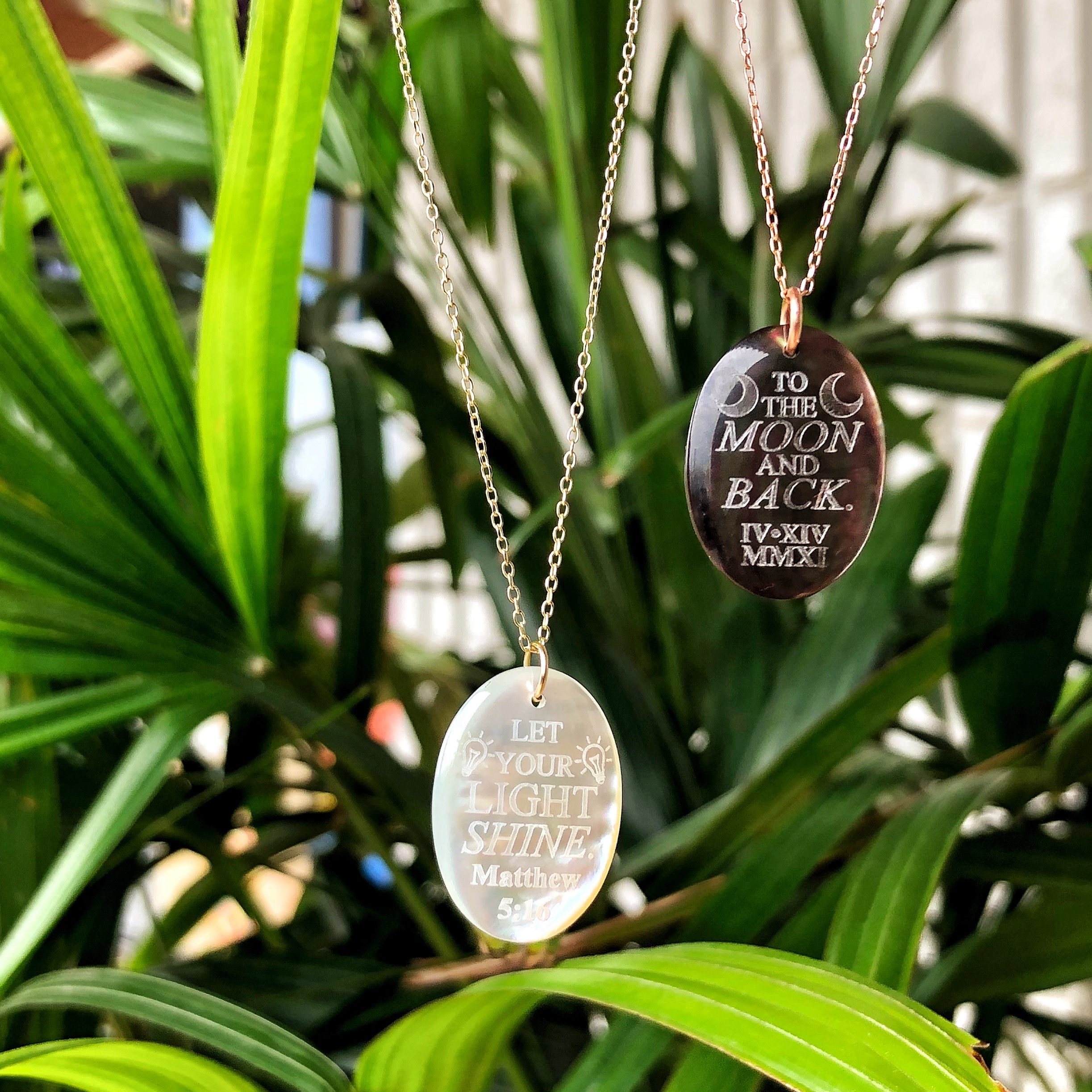 Sweet Reflections - Custom Mother of Pearl Pendant
The sweetest gifts come from the heart, even when they're for yourself! The word Reflection is defined as a serious thought, and it's what makes this pendant so special when it is inscribed with words that hold a deep meaning. The Mother of Pearl, with it's simplistic beauty, also reflects it's rays of light and color back to it's viewer, only showing it's inscription to those close enough to see it's true meaning. It is a gift that is enough to warm the heart of anyone wearing it.
Add a Sparking Diamond-Cut chain to complete the look!
LET YOUR LIGHT SHINE. MATTHEW 5:16
"Matthew 5:16 reminds me to find happiness even when others around me aren't, in hopes to make their day a little brighter, as well as take care of my own happiness. It's a reflection that I hold close to my heart." - Alexis N.
TO THE MOON AND BACK. IV-XIV-MMXI
"I love you to the moon and back is a common exchange between people. But for me it holds a special place in my heart. My 8 year old son tells me this almost every day. He never misses a chance to remind me, and I never forget. With his birth date underneath, this pendant is the perfect way to keep his words with me always." - Melanie S.
Details
Dimensions: 25x18x2mm - Pendant Material: Genuine Mother of Pearl & Solid 14K Gold
Chains
If you choose to purchase a chain with your Reflections Pendant, please note that the chain is a sparkling Diamond-Cut and will be in 14K Gold, and it's color will match the Metal Color you chose for your pendant (White, Yellow or Rose). These chains are an additional $125 with your $55 reflections pendant.
Shipping & Processing
Please allow 1-3 business days for your custom order to be processed before shipping. Standard shipping is UPS Ground.